On June 6, 2019, Streamworks held an all company Spring Barbecue that included a Spring-Cleaning sale on branded and non-branded company apparel.
Employees chowed down on some delicious burgers, brats and side dishes while checking out the sale items for a great cause.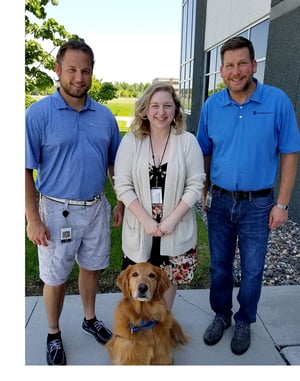 The proceeds of our June sale went to the New Hope-based non-profit, Can Do Canines. Thanks to our employees generous donations, we were able to raise $816 for Can Do Canines. Our special guests, Madison and Diabetic Alert dog Willy, were happy they were able to attend to share more about this great organization.
Who is Can Do Canines?
Since 1989, Can Do Canines have been dedicated to enhancing the quality of life for people with disabilities by providing fully-trained assistance dogs free of charge. These assistance dogs are provided to people with mobility challenges, hearing loss or deafness, seizure disorders, diabetes complicated by hypoglycemia unawareness and children with autism.
Can Do Canines is always seeking the following:
Long-Term Fosters. Long-Term Fosters care for a dog for three to six months at a time.
Puppy Raisers to work with puppies on their journey to becoming life-changing assistance dogs. Puppy Raisers work with the same dog until they are up to 24-months of age.
**Volunteers are not financially responsible for the puppy but are expected to attend one Can Do Canines training or outing each month and take the dog in public three times per week. No experience is needed to work with the dogs. They have amazing trainers to teach you how to work with a future assistance dog. You'll learn new skills at class, get comfortable taking the dog in public while attending our group outings, and they promise you'll make some new friends along the way too. Volunteers with the program should live in either the Twin Cities or near Eau Claire, WI to attend training classes once a month. Can Do Canines cover the cost of everything. They simply need you to bring this dog into your loving home.
If you're interested, please reach out to Robyn Rodrigue, Volunteer Coordinator, at rrodrigue@can-do-canines.org.
Special thanks to our entire team for coming out, enjoying some sun, great food, and supporting such a worthy cause.